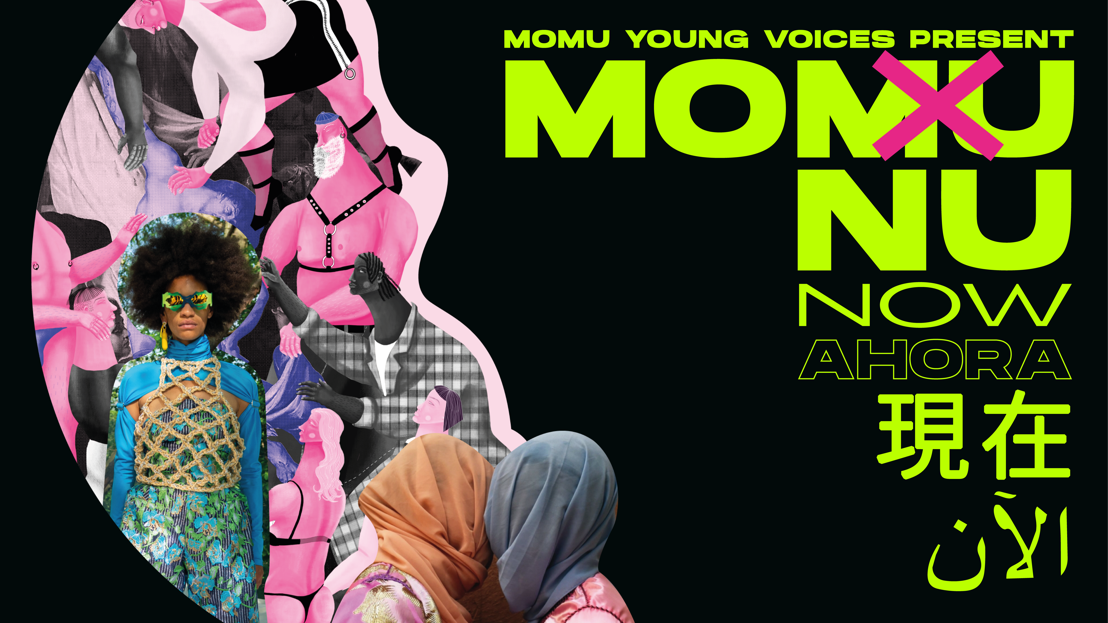 MoMu Young Voices present 'MoNu'
One-day exhibition about and by a new generation zooms in on inclusion and gender
MoMu - Fashion Museum Antwerp introduces MoMu Young Voices - a group of 11 young people between the ages of 18 and 29 with a passion for fashion and art, who got together after a call from MoMu. On Saturday, 5 October 2019, they will be taking over Bar Chapel in Antwerp for 'MoNu', a multidisciplinary exhibition covering topics such as gender and sexuality, racism and appropriation, self-epression and intercultural dialogue. 'MoNu' lasts for just one day, from noon to midnight, so save the date now!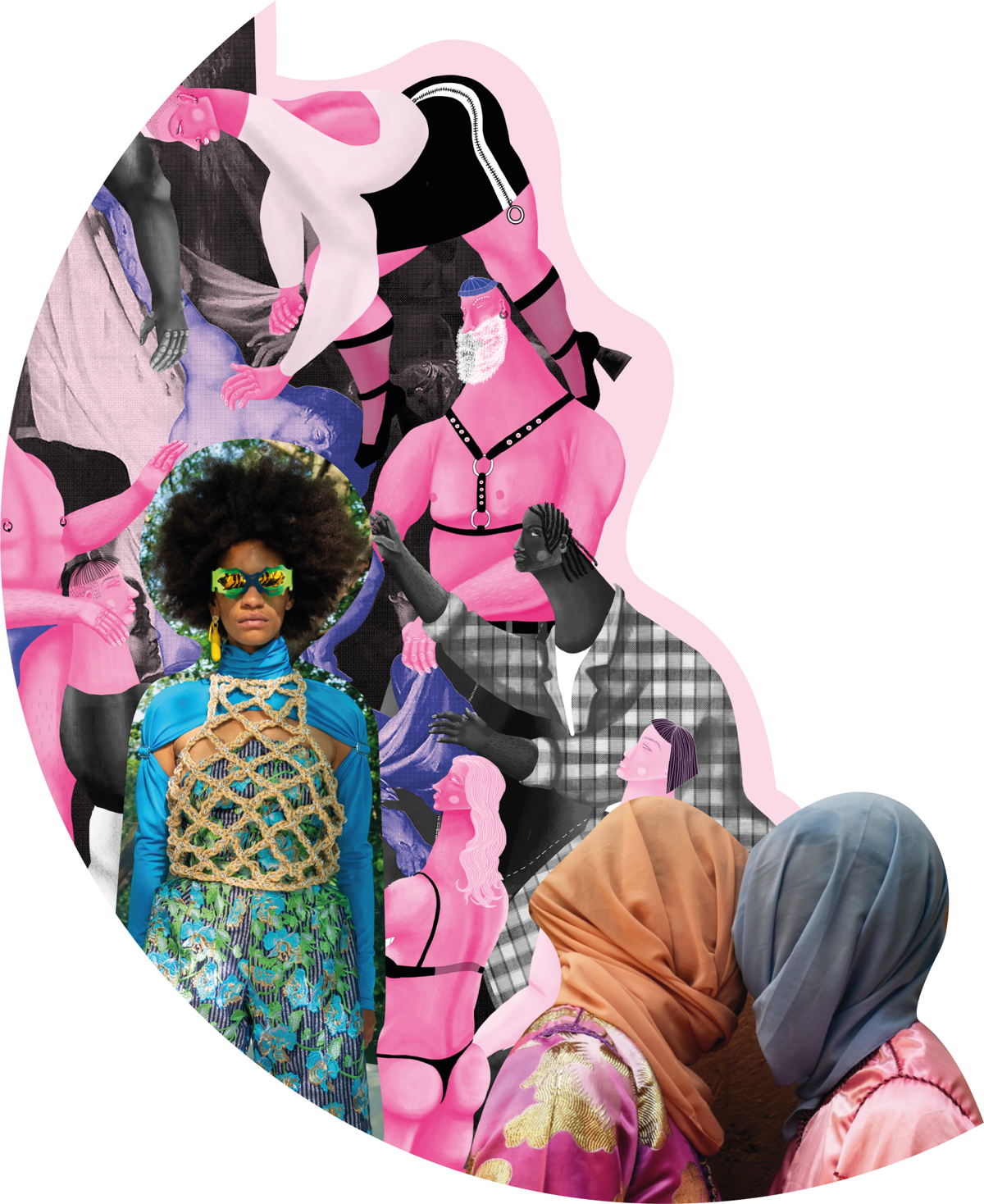 A group of young people in their late teens and twenties who want to give other young creators of art and fashion a platform, that is 'MoNu'. The one-day exhibition focuses on an open-minded selection of emerging designers, photographer, artists and illustrators from a variety of backgrounds, but all based in Belgium. Each and every one of them tackles hot topics that are blasting their way across social media these days. Like the designs by Linus Leonardsson who, with his master's collection at the Fashion Department of the Royal Academy of Fine Arts Antwerp, investigates gender stereotypes and homeliness versus rave culture.
Illustrator Paulien Verheyen tackles the much-discussed phenomenon of cultural appropriation and triggers sometimes confrontational discussions with her drawings. In his internationally acclaimed work, photographer Mous Lamrabat juxtaposes the bridges and fault lines of his Belgian-Moroccan identity with globally recognisable brands and icons. Antwerp artist Stef Van Looveren, who trained at London's Central Saint Martins College of Art and Design and Sint Lucas Antwerp, playfully dismantles codes of human behaviour, especially those around gender, in his installation art. Lars Mathijssen, on the other hand, creates photos and jewellery that interpret the macho design languague of the leather & fetish scene in a gender-fluid way for a queer audience.
Jasper Declercq and photographer Noortje Pamlers' Instagram project, Taboob, aims to expose the censorship of breasts on Instagram. The duo explore the boundaries of when a breast - according to Instagram, that is - is no longer considered a breast and will therefore not be taken offline. Painter Art by Cash signs his work with "CASH", an acronym of his full name Carl Anders Sven Hultin. He is influenced by a variety of cultures that he interprets on paper, cardboard, walls, textiles, and so on. Antwerp graphic designer Laura Helmer uses her illustrations as therapy to deal with social pressure and prejudice. Her designs are rooted in young people's daily lives and her own personal choices in terms of fashion, culture and music. And, last but not least, photographer Natalia Majchrzak creates raw, analogue images round sexuality and identity in her documentary-type style.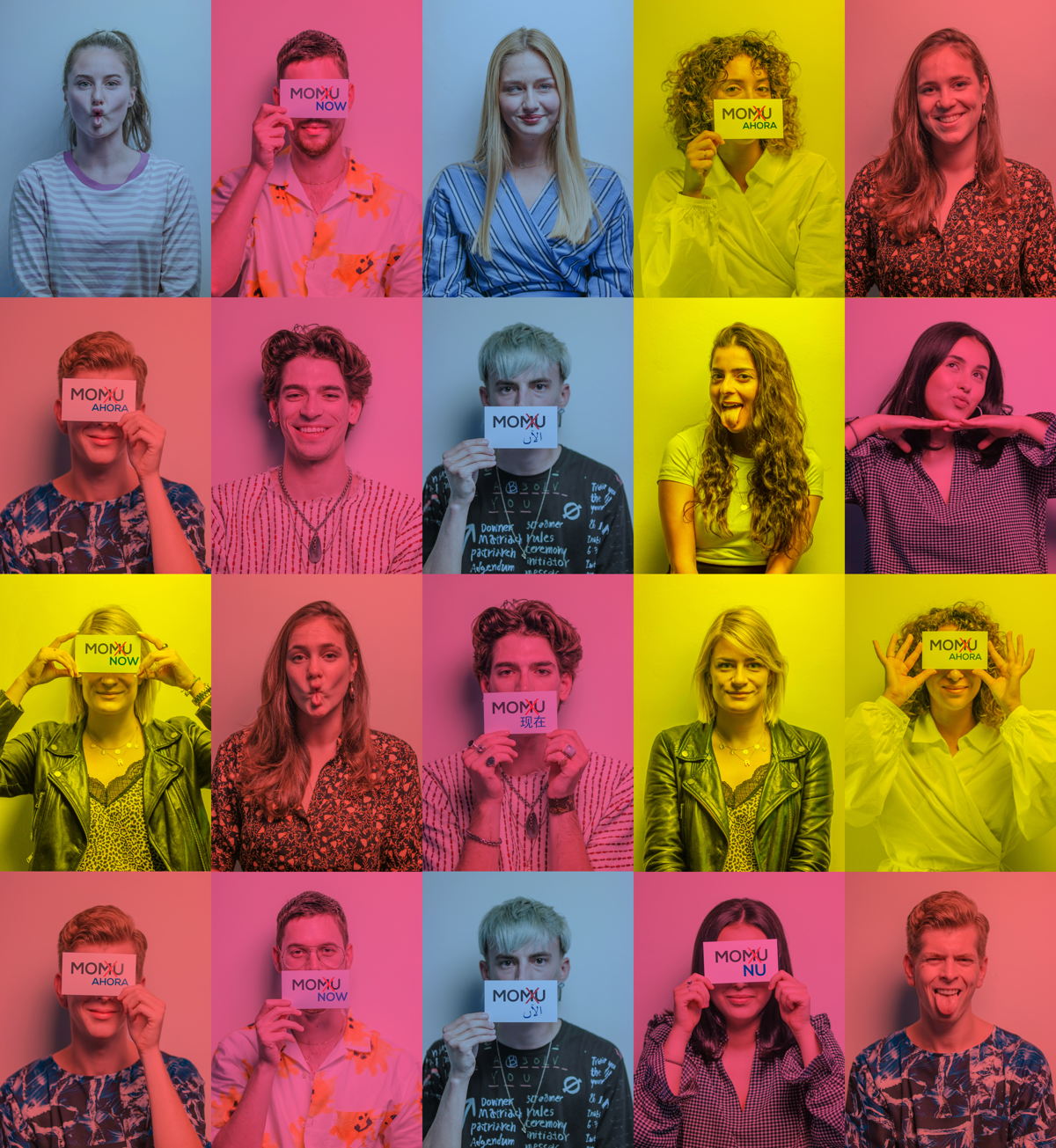 According to freelance stylist Farah El Bastani and cultural management student Pieter Bosmans, both of them MoMu Young Voices, visitors to the exhibition can mainly expect 'beautiful drama': "Inclusion is a topic that is close to my heart. Many young people think that MoMu is mainly aimed at an old(er), white audience. That is something I and the team want to change." says Farah. Pieter is also looking ahead, "As young people, we can offer museums a platform that allows them to think more about their future visitors. After all, we arethese visitors. MoNu will be a new form of exhibition in which we challenge the norms and aim to enter into dialogue."
People can chat afterwards in the bar and separate relaxation area. After 8PM, 'MoNu' will turn into a party with DJs and live performances.
ABOUT THE LOCATION
One of the exhibition's major assets is the space itself. On the 3,500 m2 site of a secluded former monastery, Bar Chapel has a flourishing courtyard garden in Borgerhout that currently houses a pop-up summer bar. The MoMu Young Voices hope to meet a broad audience here and show how, apart from their differences, people share many similarities and predilections when it comes to art and fashion. Bar Chapel is currently still a bar but will be converted into a peaceful cohousing and coworking space at the end of 2020.
MONU, NOW, AHORA, 现在, الآن
Luk Lemmens, chairman of MoMu and De Museumstichting: "Although MoMu is currently closed, it is buzzing with activity. As part of the renovation of the museum we want to completely review our interaction with the public. We started this project, with a view to reaching more young people. Society is changing. New groups are coming along that are less familiar with MoMu. We are hoping that MoMu Young Voices will help familiarise young people with the museum."
MoMu director Kaat Debo confirms this: "As a museum, we want to be accessible and relevant to everyone. This is also why we have launched a youth programme. After all, there is not so much on offer for young people in the museum landscape. We want to change that. The MoMu Young Voices are in a perfect position to know what is important to young people and can reach their peers more easily. The fact that the building is currently closed and the collection cannot be viewed is not an obstacle but an opportunity. Young people look at things from their own perspective and that of their target group, not in terms of an exhibition or collection."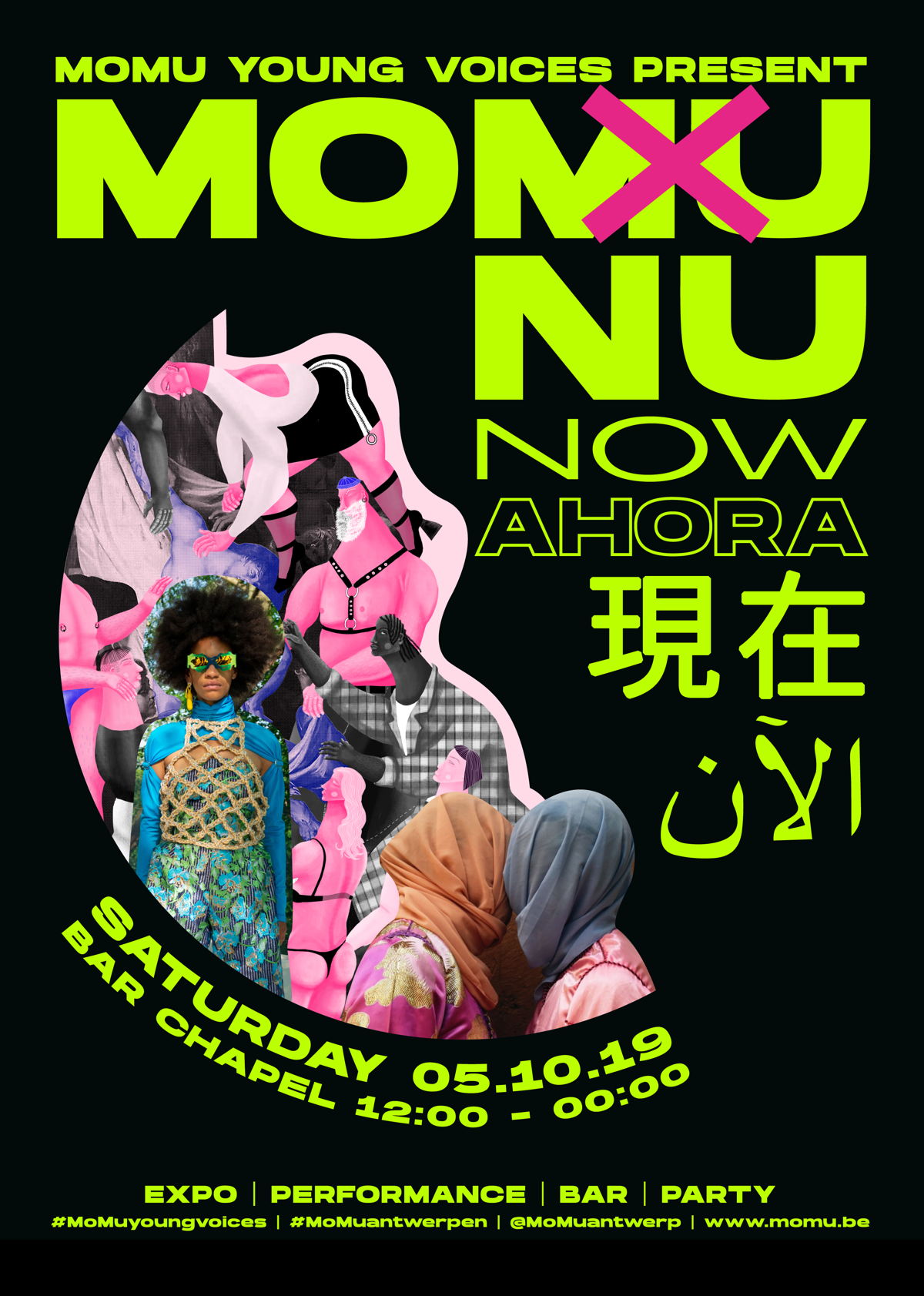 PRACTICAL
MONU, NOW, AHORA, 现在, الآن
Saturday, 5 October 2019, from 12AM to 12PM
Expo - Photo - Bar - Performance - Party
Bar Chapel, Kerkstraat 150, 2060 Antwerp
Free entrance
More info / FB event / Meet the Young Voices