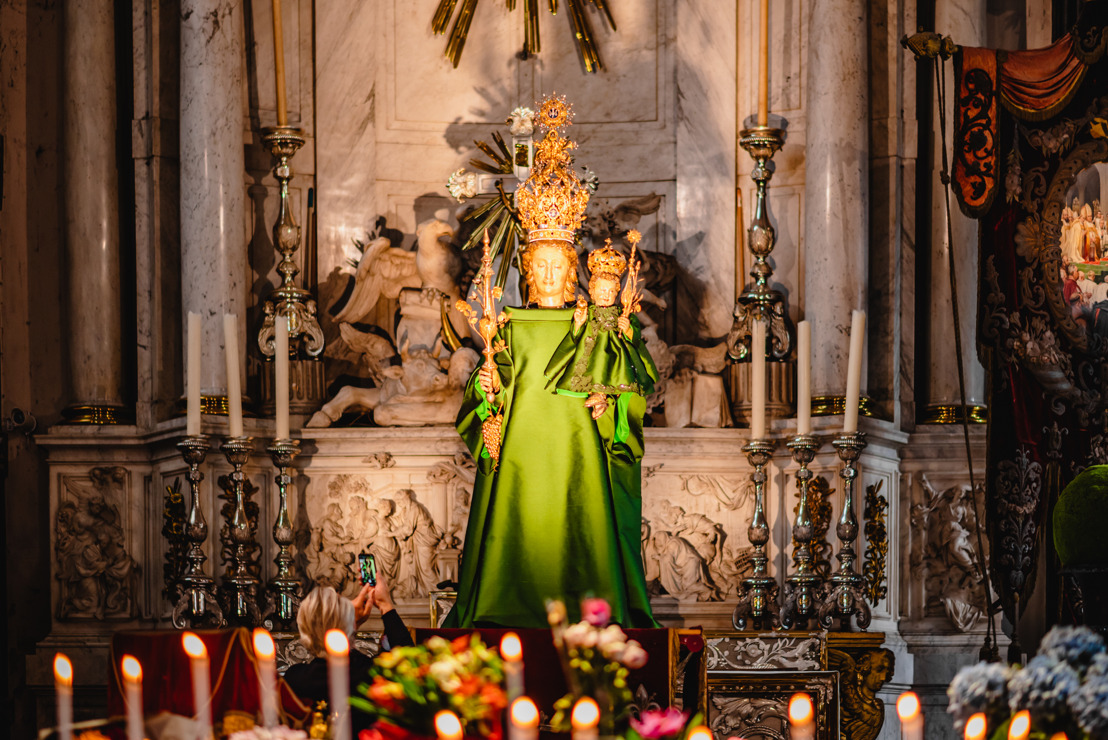 Our Lady of Fashion: Edouard Vermeulen (Natan) dresses the statue of Madonna in the Cathedral for 'Fashion 2.021'
'Fashion 2.021 Antwerp – Fashion/Conscious' is filling the city with fashion culture and reaching even the most unexpected places. From 4 September 2021, visitors can admire the statue of the Madonna in Antwerp's Cathedral of Our Lady, dressed in a creation designed by couturier Edouard Vermeulen from the fashion house Natan. Twenty years after Ann Demeulemeester adorned the Madonna statue in St Andrew's Church in a new outfit, a new top Belgian designer will now also dress the religious icon, in honour of the universal woman and mother.
MoMu asked Edouard Vermeulen to create a new and contemporary silhouette for the Madonna statue in Antwerp's Cathedral of Our Lady, which dominates the city's skyline. Vermeulen went on to invite the writer Hinda Bluekens (Hinda House) to create a poem for this project. Hinda Bluekens: 'We are embraced by women, by mothers. There's a promise in the word mother that you will be cared for. Yet you don't need to bear children to master the art of mothering. This poem is for every woman with a mothering instinct.'
The creation is inspired by the most recent summer collection by Natan Couture. The dress, with a boat neck, is made from a large quantity of fabric, which adds volume to the dress and sleeves. Edouard Vermeulen chose an emerald green Shantung silk, a noble and luxurious fabric, commonly used in haute couture. Vermeulen: 'The choice of colour is no coincidence. Green is the symbol of hope, a reminder of the Fashion 2.021 festival, and a colour that brings luck and encourages tranquillity and peace.'
For more than one thousand years, church-goers have entrusted their joys and sorrows to the statue of the Madonna, as the patron of Antwerp who even survived the Iconoclasm.
For centuries, the clothes worn by Madonna statues in churches in the Southern Netherlands were founded on fashion in the Spanish court from the sixteenth century. This is also why the adorned Madonna is sometimes referred to as the "Spanish Madonna". Her outfit consisted of a voluminous skirt beneath a long cloak. This has since become the typical style of clothing which is used to adorn the Madonna statue in most of Antwerp's churches.
In the past, wealthy ladies made donations to the Madonna statues. These were mainly valuable garments from which smaller outfits were then fashioned for the statue. This tradition died out entirely over the course of the nineteenth century, at least in Antwerp. From September, thanks to the collaboration with the house of Natan, it will once again be possible to admire the Madonna statue wearing some contemporary fashion.
Bart Paepen, priest at the Cathedral of Our Lady: 'It is wonderful to see how people choose Mary, a dear mother, to entrust their concerns and despair, and share their joy and their gratitude. We are delighted so see her so beautifully clad in a new outfit.'

CATHEDRAL OF OUR LADY ANTWERP
Handschoenmarkt, 2000 Antwerp

September 4, 2021 - December, 20 2021
Opening hours and tickets: dekathedraal.be

FASHION 2.021
'Fashion 2.021 Antwerp - Fashion/Conscious' is the reopening programme of MoMu - Fashion Museum Antwerp in collaboration with the city of Antwerp and VISITFLANDERS. More info: fashion2021antwerp.be
David Flamee Press & PR, MoMu - Fashion Museum Antwerp