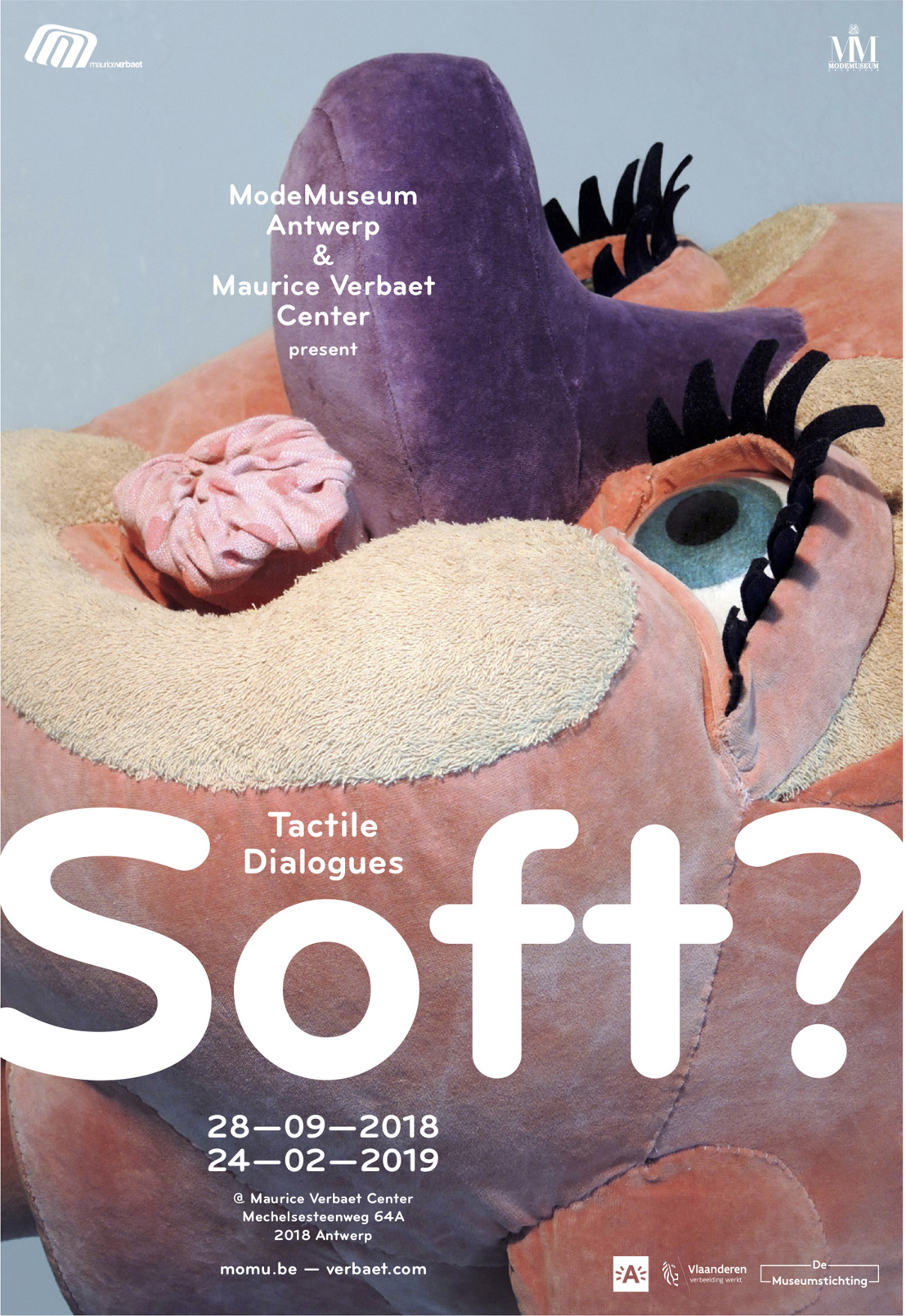 SOFT? Tactile Dialogues
Monday, May 14, 2018 — From 28/09/2018 to 24/02/2019, MoMu will present the exhibition 'SOFT? Tactile Dialogues' at the Maurice Verbaet Center in Antwerp. This will mark the first time that MoMu takes its focus away from fashion. It will present work from its own collection by Belgian textile artists from the 1970s and 1980s in an inspiring dialogue with contemporary artists who express themselves freely in textiles.
In the 1960s and 1970s, many feminist, post-minimalist, and fibre artists found their way to textiles. They were attracted to the aesthetic possibilities, structural potential, and semiotic power of this 'soft' material. The intuitive or militant use of textiles – a material traditionally associated with commerce and industry – put pressure on the stark distinction between fine and applied arts. It was precisely because of the sexist association of textiles with 'women's work' or 'decoration', that feminist artists used it to denounce the balance of power within the art world.
Belgian artists such as Veerle Dupont, Suzannah Olieux, and Liberta Ferket also expressed themselves in textiles during this era. Their oeuvres form an exceptional component of MoMu's collection. Also shown in the exhibition is the work of the better known Belgian-Polish artist Tapta, whose work is part of the 'caroline&mauriceverbaetcollection', a private collection of Belgian modern art produced after the war. Although these artists often worked at the margins of the art world, their continual efforts were crucial for textiles to become an accepted medium in contemporary art.
In 'SOFT? Tactile Dialogues', MoMu will present work by this first generation for the first time in dialogue with contemporary artists such as Kati Heck, Nel Aerts, Anton Cotteleer, Sven 't Jolle, Klaas Rommelaere, Christoph Hefti, Stéphanie Baechler and Kirstin Arndt. This younger generation expresses themselves unapolo- getically and freely in textiles, often combined with other media. This sense of freedom is owed to the battle fought by that first generation, as well the changing perception of art criticism where the quality of an artwork has little to do with style or medium, but all to do with artistic intention.
'SOFT? Tactile Dialogues' is about the freedom with which artists move between various media, about unexpected textile applications, about tactility and aversion, about the textures and the skin of sculptures. MoMu will present this exhibition on location at the Maurice Verbaet Center, an art centre dedicated to (re)discovering Belgian modern art produced during and after the war. Its 1960s architecture, monumental stairwell and art gallery form an impressive backdrop for the exhibition.
SOFT? PARCOURS
In October and November 2018, PLUS-ONE Gallery, Gallery Sofie Van de Velde, Geukens & De Vil and DMW Art Space will also join 'SOFT? Tactile Dialogues', and unexpected installations by young artists will create a dialogue with passers-by at various locations across Antwerp.
PRAKTISCH
SOFT? Tactile Dialogues
28/09/2018 - 24/02/2019
Maurice Verbaet Center, Mechelsesteenweg 64A, 2018 Antwerp
Opening hours: Friday to Sunday, 1PM-6PM
Entrance: free
MOMU - MODEMUSEUM ANTWERPEN
T +32 3 470 27 70 / info@momu.be / www.momu.be
From 16 April 2018, MoMu is closing the doors of its building on the Nationalestraat for renovation and expansion work that will continue until 2020. While the building is being renovated, MoMu will step out on various locations in the world, more info.